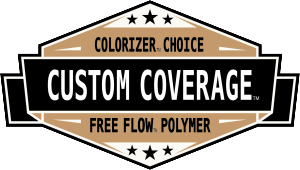 Custom Mixed Polymer and Colorant Seed Treatment Additive
General Information
Custom Coverage is a combination seed treatment additive of Free Flow polymer additive and Colorizer seed treatment colorant.
Custom Coverage is designed to enhance treatment coverage and retention on the seed coat and impart a color to the treated seed.
Custom Coverage may be used with any aqueous based seed treatment product designed for mixed slurry application to any type of seed grown for food, feed, or other vegetative purpose.
The use of a jar-test to confirm compatibility is recommended prior to larger volume mixing of any new treatment slurry.
Custom Coverage is available in several color options.
Use Rates
For use with pre-colored treatments: Add 1.25 fluid ounces per 100 pounds of seed
For use as a stand-alone color treatment: Add 1.50 to 1.75 fluid ounces per 100 pounds of seed.
Select rate based upon preference for seed color intensity.
Custom Coverage Blue
2 x 2.5 Gallon Case (AC-CCB225)
15 Gallon Drum (AC-CCB15)
30 Gallon Drum (AC-CCB30)
265 Gallon Tote (AC-CCB265)
Custom Coverage Green
2 x 2.5 Gallon Case (AC-CCG225)
15 Gallon Drum (AC-CCG15)
30 Gallon Drum (AC-CCG30)
265 Gallon Tote (AC-CCG265)
Custom Coverage Orange
2 x 2.5 Gallon Case (AC-CC01225)
15 Gallon Drum (AC-CC0115)
30 Gallon Drum (AC-CC0130)
265 Gallon Tote (AC-CC01265)
Custom Coverage Red (75/50 Blend)
2 x 2.5 Gallon Case (AC-CCR-075050-225)
15 Gallon Drum (AC-CCR-075050-15)
30 Gallon Drum (AC-CCR-075050-30)
265 Gallon Tote (AC-CCR-075050-265)
Custom Coverage Red (75/75 Blend)
2 x 2.5 Gallon Case (AC-CCR-075075-225)
15 Gallon Drum (AC-CCR-075075-15)
30 Gallon Drum (AC-CCR-075075-30)
265 Gallon Tote (AC-CCR-075075-265)
Custom Coverage Red (75/100 Blend)
2 x 2.5 Gallon Case (AC-CCR-075100-225)
15 Gallon Drum (AC-CCR-075100-15)
30 Gallon Drum (AC-CCR-075100-30)
265 Gallon Tote (AC-CCR-075100-265)
Custom Coverage Red (100/50 Blend)
2 x 2.5 Gallon Case (AC-CCR-100050-225)
15 Gallon Drum (AC-CCR-100050-15)
30 Gallon Drum (AC-CCR-100050-30)
265 Gallon Tote (AC-CCR-100050-265)