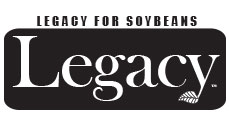 Soybean Inoculant
Legacy Dual-Action Inoculant For Soybeans
Problem Solved with Legacy
IF…You want a convenient-to-use soybean inoculant
USE…Legacy Inoculation System for Soybeans
TO…Inoculate and hasten early growth and establishment of the crop
General Information
The Legacy duo-pak case contains a two-part system: Super-Concentrated Liquid Inoculant and Chitosan Based Bio-Stimulant Plus Extender. The bio-stimulant is an EPA registered product (EPA# 91439-1).
When both parts are combined, the resulting mixture is a ready-to-apply live bacteria and bio-stimulant/extender agent formulated to inoculate 50 units (2,500 pounds) of soybean seed.
When the two parts of the system are combined, the mixture should be applied to the seed immediately.
On-seed survival of bacteria can last as long as 95 days after application.
Sequential application of separate seed treatment produce is recommended for best result.
Use Rate
Apply at a rate of 2.5 fluid ounces per 100 cwt, or 1.25 fluid ounces per 140,000 seeds. This application rate is based upon 2,800 seeds per pound.
Package Sizes per Case
(Each case contains 4 inner cubes. Each cube contains 2 bladder bags each.)
Super Concentrated Liquid Inoculant: 50.72 fluid ounces
Extender: 11.83 fluid ounces