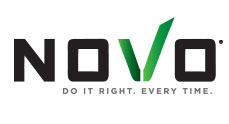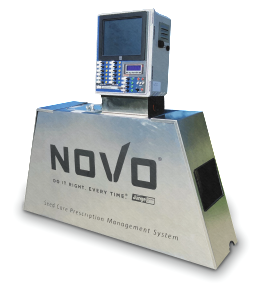 NOVO Seed Care Prescription Management System
Problem Solved with NOVO
IF…You need a precise measuring and mixing seed treatment system
USE…The NOVO chemical mixing and prescription management system
TO…Improve precision mixing capabilities
Features
Scaled Measuring Tank
Four or Eight Direct Product Ports + Water Connection
Automated Touch Screen Control Panel
Transfer Line to Slurry Tank
Product Pumps Power to Control Ports (110 v)
General Information
The NOVO system helps the Seed Care Operator do a better job of treating seed.
The NOVO seed care prescription management system precisely measures and mixes seed treatment slurry based on locally developed prescriptions.
The prescriptions are entered into the SIRA database system that is included with the NOVO purchase.
The slurry is mixed in a closed automated system which reduces worker exposure.
The slurry is transferred to the slurry application tank on the treater. (The NOVO is compatible with all makes, models and brands of slurry based seed treating systems.)
Prescriptions can be saved in the system for future reference, and a report for each batch automatically prints.
Use Rates
Rates can be adjusted to obtain the desired coverage and performance based upon the seed size, seed coat, total slurry mix volume, and seed treatment application equipment.
Package Sizes
4-Port (NOVO4P)
8-Port (NOVO8P)
Click here for Specimen Label, Safety Data Sheet, and more Product Information